I've been absent from this site for a while. Editing my latest book is taking a LOT of time and is draining. Has that ever happened to you? Anyway, we took a trip to Maine las month, a 2260-mile car ride that we won't repeat! Here are some highlights!
Every year we travel to Maine to eat lobster and to sell books. My Rhe Brewster Mystery Series is set on the Maine coast, and I have faithful readers in the state, so I do signings at the Sherman's store in Damariscotta and have my books at all the other Sherman's in the state. This year we drove to Maine in order to bring back lobsters.
On the way there this year, I had a chance to visit with a blogger I met online, the much-awarded children's author, Janice Spina. My grandson has several of her books, which he has pronounced 'good.' He's not much of a reviewer yet.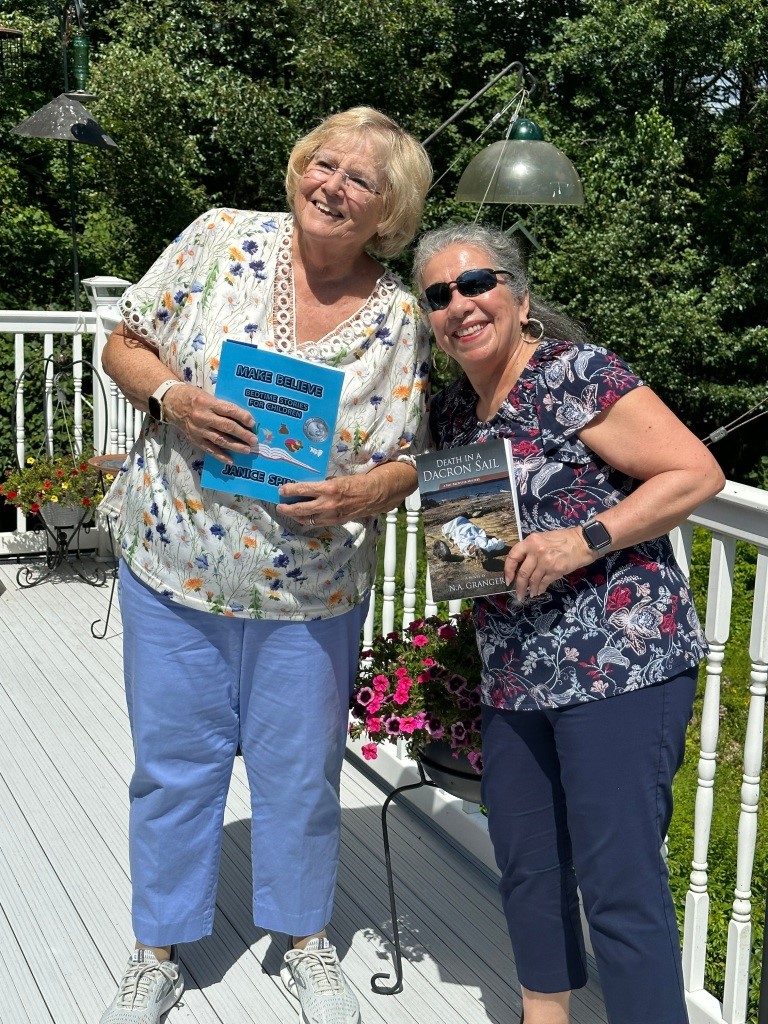 Janice jumped the gun and wrote about our visit on her blog, which you can find here: https://jemsbooks.blog/2023/08/29/a-visit-from-a-fellow-author-noelle-a-granger/
Janice writes wonderful children's books and has flexed her writing muscles by writing for teens and adults. Her books always have a message and are clearly written with love. Here are the covers of just three of her many books. And here we are sharing our books on her lovely back deck, where she hosts hummingbirds in great number. For us, she made a scrumptious deep-dish apple pie. I think my husband had a second serving! Over several hours, we chatted about writing, publishing, characters, and her upcoming annual trip to Aruba. I am SO envious.
We stayed at our favorite place, Brown's Wharf, which was Charles Keralt's favorite place to stay, too. Our room faced the harbor and we had a 180 degree view from the deck. It's lovely to wake up to the sound of seagulls in the morning, and to watch the lobster boats going in and out, along with some impressive yachts.
While we were there, we dined on lobsters several times, along with fresh oysters, which we were supposed to shuck ourselves. I proved I was a zero in that regard and my daughter shucked mine for me. They were harvested earlier that day and were so delicious! We normally only eat steamed oysters but these, being fresh, we could eat without cooking. We feasted on scallops and also stopped for lunch one day at a local shack that sells only two things – a fish sandwich or a fish bowl. The fish is brought early in the morning and the lady who runs the shack fries up huge portions for the sandwiches and also puts big slabs of the fish in the fish bowl. She told us that despite the sign that spells out the limited menu, she can't count the time tourists have asked her if she has hamburgers!
One day we spent at the Maine Botanical Gardens in Boothbay. What a great time we had – the flowers were stunning, and the place is huge. Many places to walk and admire the abundance of Maine flora, much of it in bloom. They even have a children's garden with a little house for story-telling time, an enormous sand box with toys, and a recreation of Farmer McGregor's garden, for Peter Rabbit enthusiasts. My husband was writing down names of plants and taking pictures the whole time.
Another day we went to the Train Museum, which has a narrow gauge train that runs around the property. There is a real, honest-to-gosh train station and a number of other historic houses that have been brought there to make a village. While everyone was clambering over the old train cars, I spent my time in a huge warehouse of lovingly restored and polished antique cars. They even had the antique car I had had in high school: a 1930 Model A phaeton (and no, I am not that old myself!).
On Saturday, I sold books at Sherman's in Damariscotta. My mysteries did a good business, but I sold all of their copies of The Last Pilgrim within the first hour. Luckily I had brought a box of twenty more with us, and I sold all but four of those before closing up shop at 5PM.
On our next to last day, we collected 12 lobsters, ready steamed and packed them on ice for the trip home the next day. Unfortunately, just as we were getting to bed for an early morning start, I started to experience intense pain in my back, which my husband diagnosed as a kidney stone. The pain grew worse, so at 3 AM he drove me the 23 miles from Boothbay Harbor to an emergency room in Damariscotta. Worst ride ever. There I was given morphine and something for the awful nausea and once I'd improved, was sent back to Brown's Wharf. By that time it was about 5AM, and I slept most of the next day, while Gene kept the lobsters chilled.
We finally left a day late, making it home in two days. Our total mileage for the trip was 2,260 miles, and in the end, we decided long car trips are just not as much fun as when we were younger!