Rarely have I read a book so filled with love, acceptance, kindness, faith, and hope. The Gift brought me to tears several times, and the experience of reading it was uplifting.
This is the second in the Harbor Pointe series, covering two centuries of stories linked by the Harbor Pointe Inn on a cliff overlooking the Pacific Ocean in California.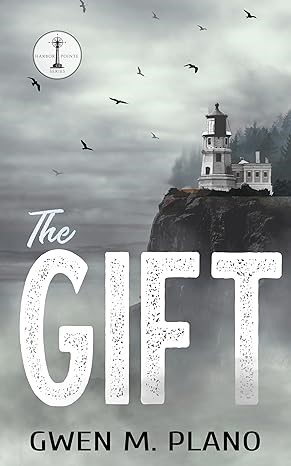 Banished by her parents, Sixteen-year-old Shelly is heavily pregnant as the result of a one-time mistake. Her father gives her the keys to his old truck and some money for gas, and tells her to drive across the country to live with an aunt in Washington until her baby is delivered… and possibly longer. Out of gas and money, Shelley finds herself on a fire road close to the West Coast when her contractions begin.
A snow storm rages outside as Shelly delivers the baby on her own, then determines that she and the baby will die in the truck if she can't find them shelter. Wrapping the newborn in her father's old coat, she follows a flickering light in the distance. The light is from a lighthouse, and she collapses at the door to the lighthouse keeper's cottage.
She is rescued by Jes, the lighthouse keeper, and his wife, Mary. Shelly and her baby are a Christmas gift of life and love to Jes and Mary, who lost their only child after a few years after she was born. The love between Jes and Mary as they open their hearts and home to Shelly and the baby is miraculous.
The characters in the story are so real and their emotions so beautifully rendered that I felt great joy while reading. This is a happy story – only good surprises as you get to meet Jonathan, Shelly's boyfriend; his cousin Howard, who happens to live in Harbor Pointe, and Jonathan's parents. The allusions to the real Christmas story filter in here and there, as well.
I highly recommend the book, and I hope everyone will read it to feel the joy of the season.
About the author:
Gwen M. Plano grew up in Southern California and spent most of her professional life in higher education. She taught and served as an administrator in colleges in Japan, New York, Connecticut, and California. Gwen's academic background is in theology and counseling. Recently retired, she now lives in the high desert of Arizona, where she writes, gardens, and travels with her husband. When Gwen is not writing, she's often in the beautiful Red Rocks of Sedona, where she finds inspiration.
She has authored five books. The Contract is a thriller fiction novel she co-authored by John W. Howell, which received multiple awards and is an Amazon Best Seller.
You can find Gwen Plano on her blog: https://www.gwenplano.com/